The Outdoor Pop-Up Shopping Event has been going strong for six months now every other Saturday on 20th Avenue between Ulloa and Vicente. With a different mix of vendors and artisans each week, the pop-up shopping opportunity was the brain child of Nora Daly, who started it in response to COVID-19 as a way to connect local small business owners with potential customers in a safe, convenient outdoor environment.
Nora has lived on 20th Avenue between Ulloa and Vicente for 35 years, and she and her husband raised their two kids there. Recently Nora started up a business selling useful products to friends and neighbors. But when COVID-19 hit in March, everything came to a halt. Nora, like so many others, lost her source of income. Not only that, but she had built up inventory preparing for large events around St. Patrick's Day, which were all cancelled. 
In the past Nora had held garage sales in front of her home on 20th Avenue, which got a lot of customers from the families attending kids' soccer games across the street at Larsen Park. Once San Francisco began to allow outdoor sales, Nora thought trying something like that again might be a way to create a safe environment to support small businesses and entrepreneurs. Nora decided to organize bi-weekly pop-up shopping events to provide a safe, convenient socially distanced shopping opportunity.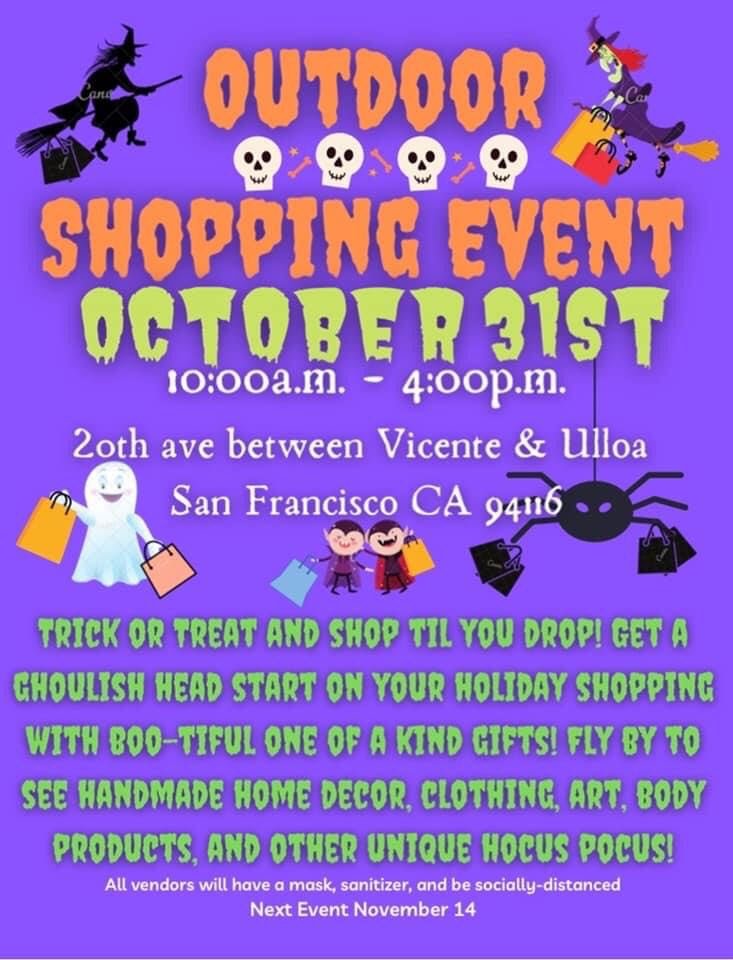 Nora reached out to others she knew who needed ways to get their products to customers – many of them mothers whose small businesses were a second job needed to meet family expenses or sometimes their only job. At the end of May, a group of vendors selling crafts, vintage items, and a range of home and personal products set up tables and tents in front of homes in the middle of the block – and they were in business.
Since then the Outdoor Pop-Up Shopping Event has continued every other Saturday. The available space on 20th Avenue can accommodate 12 to 15 vendors at each event. Nora is working with about 80 vendors who she books on alternating weeks, providing a different mix for each event — customers will never have the same shopping experience twice!
Mark you calendars for the remaining Outdoor Pop-Up Shopping Events this season: October 31, and November 14 and 28.
After that, the event will move indoors for two dates at the United Irish Cultural Center (2700 45th Avenue) – December 5th and December 12th, noon to 6. These socially distanced indoor events will feature 30 vendors each — different each day! — and will have plenty of great options for your holiday shopping. Plus the Irish Center will be offering food, so make it a fun holiday shopping activity.
Nora plans to be on hiatus in January and February but will open again in March, back at the 20th Avenue location. Hopefully the kids will be playing soccer again and families will have a chance to visit the outdoor shopping event!
As so many in our community are struggling to get by in these challenging times, remember this holiday season to do all you can to support small, independent businesses and artisans:
Buy Local.
Buy handmade.
Buy from someone you know.
Buy from the self-employed.
Thanks to Nora for finding a creative way to support small businesses and bring this fun, new institution to the neighborhood.
If you'd like more information, you can contact nora at thedancesr@yahoo.com.